Do you know that social media like TikTok will grow your boba tea business? We will discuss some social media tips for bubble tea shops. By creating a strong online presence, you can attract new customers and keep existing ones engaged.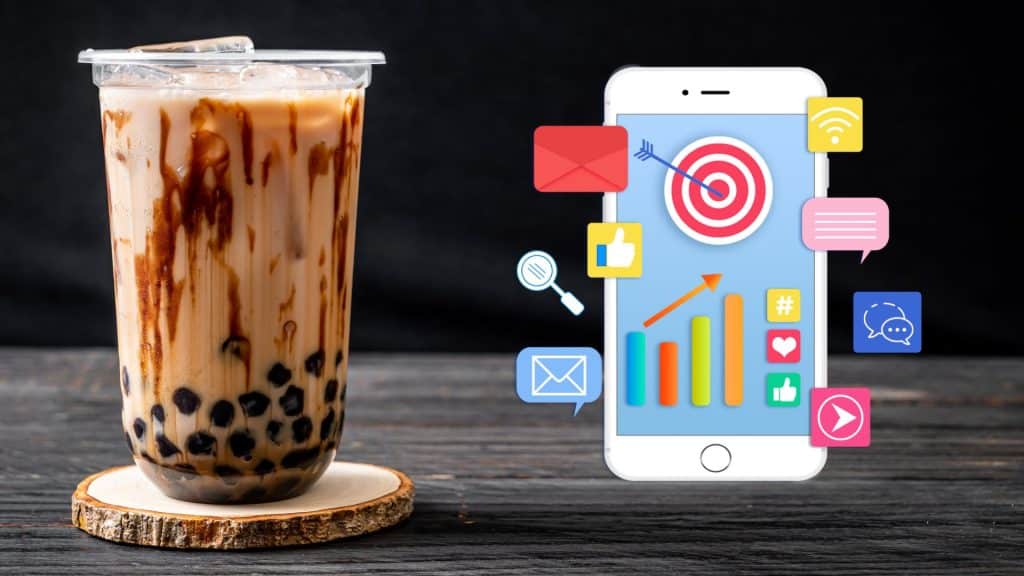 As a new bubble tea shop in Singapore, it is important to make use of social media to reach out to potential customers and create a strong online presence. Here are 10 tips on how to effectively use social media for your business:
1. Use the business profile
Before you can begin implementing an advertising plan for Facebook, TikTok or Instagram, it is important to ensure that you're using the company account for your bubble tea shop. This is one of the most effective social media tips for bubble tea shops. If you're not changing your profile, it's simple. Go to the settings, and click "Switch into Business Profile."  The presence of a profile on your business page allows users to click the Contact button to contact you via your account similar to having a Contact Us page on your website.
2. Create engaging and visually appealing posts
With the vast number of bubble tea shops in Singapore, it is important to make your shop stand out from the rest. Creating visually appealing posts on social media is one way to do this. Use high-quality photos and videos to show off your bubble tea creations, and be sure to include creative and eye-catching captions.
3. Beware of over-posting
The over-posting you do is sure to cause your followers to stop following you. This is one of the most effective social media tips for bubble tea shops you need to keep in mind. They'll stop following you when all they see on their feed are your posts. What you must do is consistently post during the times that your followers are on the internet. In general, however, the most effective times to post on Instagram according to recent research are:
Best day:  Thursday
Best times: From 2:00 PM to 3:00 pm on Thursdays, 10:00 AM every Wednesday, 10:10 AM, Fridays
If you're looking to consistently publish at different times of the week look at TikTok Insights or Instagram Insights to find out the times when your followers are most active. These numbers are still more significant than the data from the recent studies mentioned above because they are general in nature and are not specific to any industry.
4. Teasers for new snacks or drinks
Social media is the ideal platform to promote your products. If you use it correctly, it can help you attract new customers and turn them into loyal ones without putting them off. A great way to accomplish this is to share teasers for your products.
Thankfully, teasers for products work effectively for businesses. They're not ad-hoc or pushy but instead create excitement and anticipation without making too much effort. Teasers can be used in all industries. As for businesses using boba tea, it is possible to tease the limited-edition drinks you have or that brand-new collection of syrups you purchased by using attractive images or short, fun videos.
Transform Your Social Media Strategy Today
5. Use relevant hashtags
Another effective social media tip for bubble tea shops is using hashtags. Hashtags are a great way to reach out to potential customers who may be interested in your bubble tea shop. Use relevant hashtags that are popular among bubble tea lovers in Singapore, such as #bubbleteaaddict or #bubbleteasg.
6. Offer promotions and discounts
Everyone loves a good deal, so be sure to offer promotions and discounts on your social media pages from time to time. This will not only attract new customers but also keep existing ones coming back for more.
7. Show sponsored ads
Advertising on social media is an excellent way to promote your business which is part of the most effective social media tips for bubble tea shops. TikTok, Facebook, and Instagram allow brands to determine the exact budget they would like to invest in and the number of days they would like to run advertisements.
You can display a single sponsored ad or a number of them with the carousel ad feature. Carousel ads are a type of advertising format that combines multiple images or videos into one ad. Carousel ads are very popular on TikTok, Instagram, and Facebook. Sponsored ads enable your boba tea company to be seen by users who may not yet follow your account but are interested in Boba tea beverages and snacks. This is because you can focus on the right target audience by establishing the appropriate demographics.
Additionally, you can convert successful posts into paid ads. If the posts are popular among your current followers, there's an excellent possibility that they'll become popular among prospective new followers as well.
8. Respond to comments and messages promptly
In today's digital age, customers expect prompt responses to their queries and concerns. Be sure to monitor your social media pages regularly and respond to comments and messages in a timely manner.
By following these tips, you'll be on your way to creating a strong social media presence for your new bubble tea shop in Singapore.
9. You might consider working with influencers
Influencer marketing is among the most effective ways to connect with potential customers and a tried and tested social media tip for bubble tea shops. A growing number of people buy products by looking at what they are seeing on their TikTok, Instagram, Facebook, and Twitter accounts, and especially those of influential individuals they follow.
If you can partner with an influencer that has an established love of drinks and food and food, you could get your company's boba tea brand in front of prospective customers.
The first step is to search for influencers who write reviews of food and drinks. If you develop connections with them, you'll be able to effectively and consistently increase brand recognition with an audience that is new by leveraging their fans.
10. Share on Stories
Apart from posting to your feed, think about posting to TikTok, Facebook, and Instagram Stories to help create leads. Like Snapchat Stories, Instagram Stories are presented in slideshow format, and they are live all day, every single day. There are numerous benefits to Instagram Stories for brands. One of them is that IG Stories are displayed at the top of timelines for followers. It means that your account is visible to followers without having to scroll further down.
It is also possible to use TikTok Stories and IG Stories to share behind-the-scenes content that might not be as appealing as the regular feed content. It is possible to share how your staff makes limited-edition drinks or how you make your most popular snacks. Stories can help brands appear more transparent, authentic, personal, and relaxed, unlike regular posts designed to be visually appealing or adhere to a specific color scheme. You can also apply filters, stickers, and text or modify videos and images to give your followers engaging images.
Takeway
Social media will definitely help you promote your bubble tea business. Platforms like Facebook and Instagram will help you get the word out to potential customers in your area. You can also use social media to run promotions and giveaways to generate interest in your business.
In addition to social media, another great way to promote your bubble tea business is through word-of-mouth. Make sure your bubble tea is delicious and that your customer service is top-notch. If people enjoy their experience at your shop, they'll be sure to tell their friends about it.
You can also take more traditional marketing approaches, such as handing out flyers or placing ads in local publications. Whatever marketing strategy you choose, make sure you're creative and that you're reaching out to your target audience. With a little effort, you should be able to get the word out about your bubble tea business and start attracting customers in no time.
Do you have a bubble tea shop? Let us know how you promote your business in the comments below!
Related articles: