Small businesses have to be more careful and efficient when it comes to choosing what type of advertising materials they want to create since they are not as equipped as bigger companies financially. One of the most dependable and effective ways for small businesses to advertise is by making posters. As long as you get to work with professional graphic designers to work on your posters, you will be assured that it will be effective for your small business. This article will be your guide to creating posters for small businesses.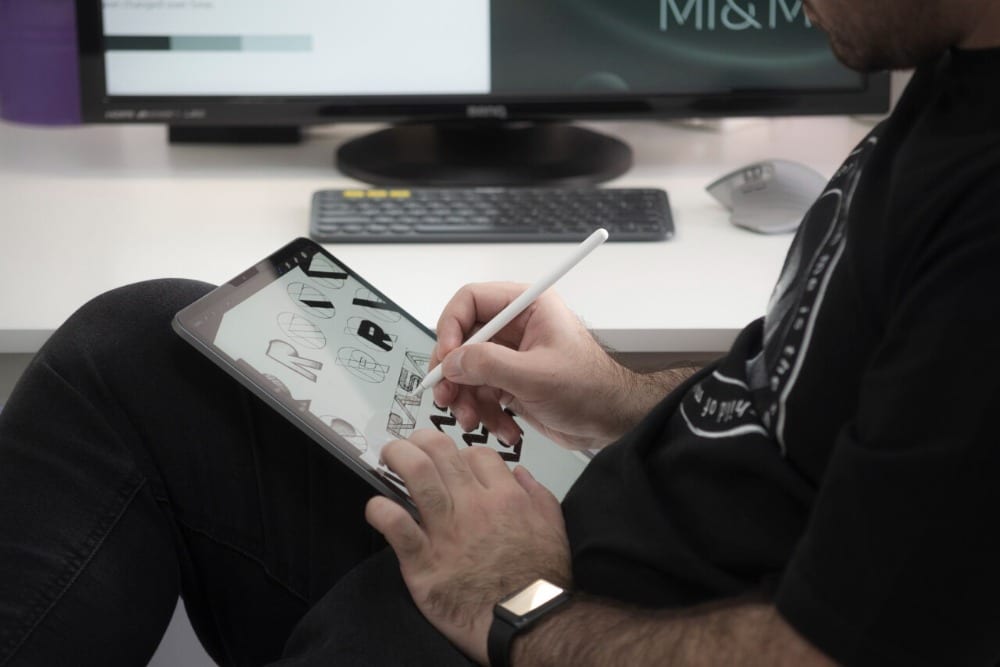 4 Reasons Why Small Businesses Should Make Posters
1. Posters are a cost-effective way to market small businesses
Posters are one of the most cost-effective ways to market your small business, especially when you compare their prices to the typical price of print materials in newspapers or magazines and other advertisements in radio and television.
Buying posters in bulk will save you even more and the overall process of designing, printing, and installing can be done a lot quicker compared to other advertising materials.
2. Consumers will be constantly exposed to your business as long as your posters are up
A significant benefit of making posters for your small business is that they will always be seen by a lot of potential customers as long as they remain visible. This means that consumers will be exposed to your marketing repeatedly.
This is a crucial advantage that posters have over other advertising materials which consumers can easily discard, exit, skip, or close once they are seen.
Make sure that you print using high quality materials and frame or laminate them so they can remain in good condition for a long time.
3. Posters are highly visible advertising materials
There are so many places to install posters in public and they can even be uploaded in all of your social media accounts as well.
With so many potential places, you will want to make sure that you are choosing areas and platforms that your target audience will constantly visit so that they can instantly recognise your brand.
If your small business relies on local consumers, you will benefit from installing posters at local, high traffic areas like dining areas, bookstores, or banks.
4. You can be flexible with how you want to design your posters
With posters, your small business has a lot of creative flexibility and freedom for your designs. This is because you will have a wide range of sizes, shapes, and colour schemes which can be applied to your poster.
You can create smaller posters for inside uses and upcoming events and create larger posters for exterior advertising and branding efforts. Each design or size can be customised so that you can appeal to a specific type of consumer and purpose. 
For younger generations, you can focus on making colourful posters and integrating QR or coupon codes. While, for older generations, you can focus on including more information and text.
4 Websites That Can Help Small Businesses Create Their Own Posters
1. Canva
Canva is one of the best tools out there because it is easy to use and has a very generous free option for those that want to create online posters on their website.
They have a large library of free templates for all types of designs. You can choose templates for posters, flyers, social media posts, etc.
Canva also offers online courses and how-to videos which are perfect for beginners and those that want to learn more about being a graphic designer in the future.
2. Adobe Express
Adobe has always been known for providing the best tools for graphic design. Adobe Express is a great offering for graphic design beginners that want to create their posters online.
It is a great tool that can be used by both beginners and professionals. It has an intuitive system which allows for click-and-drag templates to help you create a design that is truly yours.
You can use the software for free but this means that your poster will include the Adobe brand watermark. You will need a subscription to remove the watermark and get more design options.
3. Venngage
Venngage is perfect for small businesses because they generally cater towards those that may lack the budget for having posters that are created by professionals.
They offer solid paid and free subscription plans for beginners and those that want to try out easier graphic design options. They have an easy drag and drop interface which can be easy to understand and use.
The free templates you can choose from are plentiful. You will have a lot of choices for icons, photos, and illustrations. However, the free option only allows you to create five designs.
4. PosterMyWall
PosterMyWall is another great option that provides free and premium services to create posters for small businesses on a budget. It offers thousands of templates for a lot of different design needs.
It boasts a simple user interface that anyone can easily learn to create their own poster for their small business.
A great advantage of PosterMyWall is that it can give you access to Getty images and an extensive photo library for just a small fee per image. This can significantly improve the quality of any poster.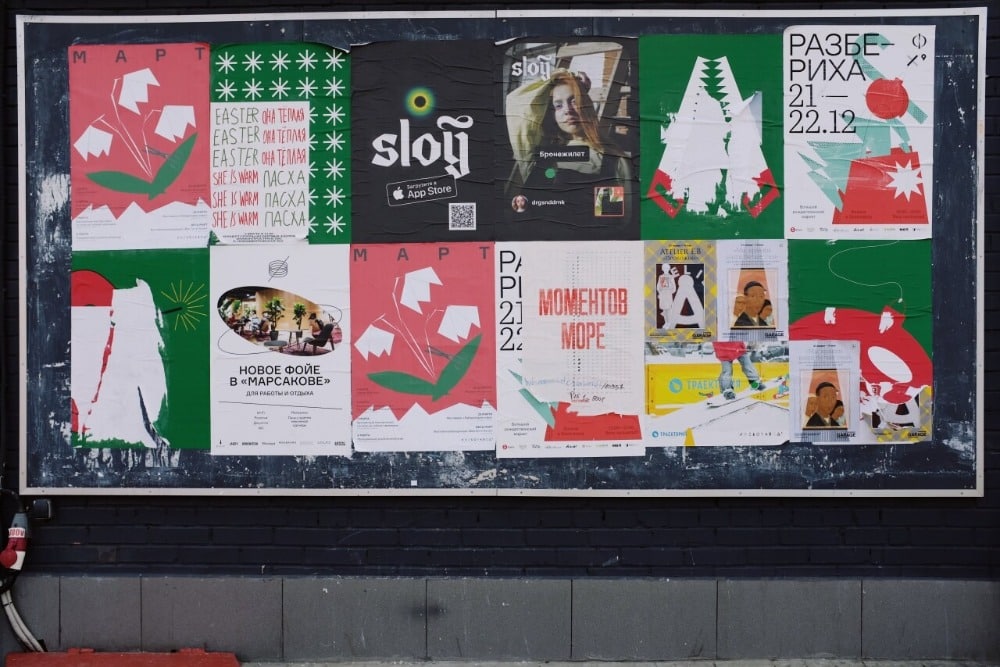 Ready to level up your brand with stunning poster design? Take the first step now!
The Process of Making Posters for Small Businesses
1. Identify what you want to achieve with your posters
The first step that you need to take when making your poster is to identify what you want to achieve with it. You should be able to answer these questions before you move on to actually creating your poster design:
What is the goal you want to achieve with your poster?

Which specific target audience are you targeting?
Addressing these questions early on will help you have a more consistent and aligned approach to choosing all the important elements of your poster like the font, layout, design, text, graphics, and images.
2. Consider where you want to install your posters
Another important factor you have to consider is the choice of locations where you can install your posters. This will help you determine what type of design or even colour you will use for your poster.
It is important that you decide on the general location of where your poster will be, like a specific address or building and you should also know where it will be specifically. For example, if it will be on a window or a wall and what colour the wall will be.
This is important to know early on as this will also inform you of what colours or designs will be used to make sure that your poster stands out in that specific area.
3. Determine the size and dimensions that you want to use
Once you have a clearer picture of the purpose and the location of your poster, you can be able to determine what poster sizes and dimensions would perfectly complement their location and your goals.
Here are four standard sizes for posters:
A4 Paper

(8.5″ x 11″) – These posters can be printed at home  or at a printing shop for personal use or for sticking on a shop window.

Small Poster

(11″ x 17″) – You can normally use these posters as flyers or on bulletin boards. They can also be used for decorating rooms.

Medium Poster

(18″ x 24″) – Posters of this size are mostly used in offices, clinics, and shop windows. They can hold more information, but you should still focus on keeping the text minimal.

Large Poster

(24″ x 36″) – These are used by companies for advertising, films, events, fundraisers, and promotions. You can see them outside malls and events.
The poster size that you will choose should depend on your goals, target audience, and content.
4. Use a template or collaborate with a graphic designer to help make your posters
If your company does not have a lot of experience with creating posters, you will have two options which are creating them on your own with a template or working with a professional graphic designer.
A lot of websites offer free poster templates which you can easily use and edit. However, you may have a harder time standing out since a lot of other businesses will be using these templates.
To make sure that you will have a unique poster design which will showcase your brand, it is best to work with a professional graphic designer so that they can produce the design of your poster.
It will be a more profitable investment since these graphic designers are skilled enough to create designs which are not possible with ready-made templates.
If you are looking to work with professional graphic designers, then our team at VideoBlast can help you out.
Our graphic design services cover all types of content and you will also have unlimited requests and revisions at affordable rates.
5. Add in all of your text content
It is important that you add your text content first. When coming up with your text, you should always go back to your target audience and goal.
You have to tailor your language to the people you want to communicate with. For example, if you are appealing to casual audiences, you should have a more conversational tone. However, you can use more authoritative and formal language if you are targeting professionals.
Remember to include all of the important information that you want your target audience to read and remember.
6. Add in all of the necessary photos and graphics
This is the part where your poster will come to life. You will need to include eye-catching photos and graphics so that your poster can immediately grab the attention of everyone that passes by and sees it.
The photos and graphics that you will use will be especially important if your poster is placed on an advertising spot where you will be competing for attention.
Remember to use graphics that are bright, colourful, and complementary to your text and fonts. Also, if you are including a photo, make sure that it is in the highest-resolution possible so that it will not end up pixelated.
7. Include a call-to-action prompt
An amazing poster won't help you in any tangible way if people don't know how to react or respond to it. Every poster should always include a call-to-action prompt so that consumers can easily move on to the next step you want them to take.
Again, this should be aligned with the goals that you have identified at the beginning of this process. Do you want them to buy your product? Visit your store? Register for an event? Check out your website?
Whatever your goal is, your call-to-action should lead them closer to it. Remember to articulate this prompt into concise and compelling copy that consumers can easily understand.
As long as you are able to perform all of these steps and have a professional graphic designer by your side, you will be assured that your posters will come out great and can help you achieve all of the goals of your small business.
Related articles:
Ready to level up your brand with stunning poster design? Take the first step now!